90s' fashion trends trigger the feel-good vibes. Just like how history repeats itself in the same way as Trends from 90's fashion does. The saying "what goes around comes around " works perfectly to explain the cycle of fashion. Our point is that fashion history repeats itself. The fashion industry is a perfect example of how trends are repeated after certain years. So never throw away any piece of clothing just because it's not in trend now. You never know when it will come back. Trends and styles that were once considered modern became outdated.
The maximum influential group of models all through the early 90s' changed into the huge five, whose fame and social power allegedly passed that of many film stars. The massive five consisted of supermodels Naomi Campbell, Cindy Crawford, Christy Turlington, Linda Evangelista and Tatjana Patitz.

The '90s were a revolutionary decade for fashion. Trends & styles that were considered cool in the '90s is cool once again. Whether it's on the ramp, on the street or in the stores, 90s' fashion is appearing again everywhere. So, embrace those halterneck crop tops, drainpipe jeans, colored tights, bike shorts, black leather jackets with shoulder pads, baby-doll dresses crop tops, chokers, and Doc Martens.
Women wore denim, button with Western shirts, colored jeans in different colors, Spandex leggings, halterneck tops, crop tops, drainpipe jeans, tights in various colors, bike shorts, leather jackets with pads on shoulders, baby-doll dresses over bike shorts.
In UK and America, women wore tailored skirts and trousers suits, short skirts and dresses, baby doll dresses, animal prints, hot pants, slim pants, bright colors, long and short skirts, and high heels.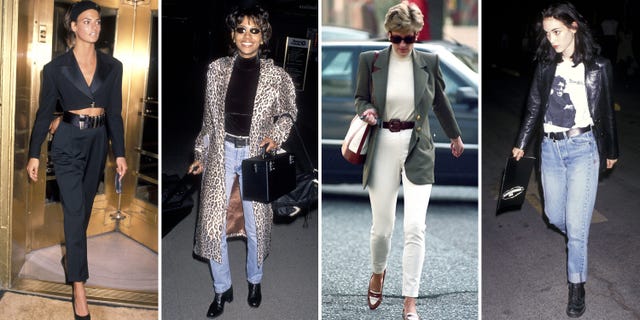 A very popular look among young women and girls in the '90s was the "sexy schoolgirl" look. This trend consisted of undersized sweaters, short slip dresses, baby doll tees, knee highs, thigh highs, miniature backpacks, overalls, tights, pantyhose, and chunky shoes.
Neon colors
The colors mostly neon yellow and green play up the nostalgic feeling of '90s items. Neons are not neutral by any means. Neon colored outfits that were in trend include tops, leg warmers, leopard print skirts, shiny satin, rayon blouses, embroidered jeans, jeans covered in rhinestones, black or white shirts, leggings and jackets printed with geometric patterns.
'90s items like mini backpacks, cropped jeans, jackets and bike shorts, while adding an instant cool factor to contemporary sportswear. The throwback color scheme also lends itself well to the growing category of Instagram-worthy travel wear.
Neon Bright colors are paving the way into 2019 and for 2020. Green, pink, and purple were all the rage across the runways this season.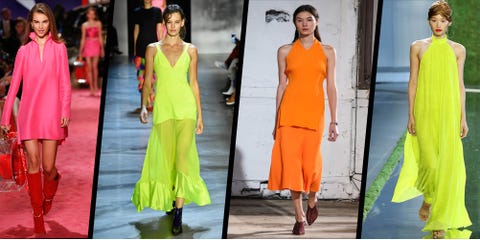 Tie-dye
Tie-dyed clothing is so easy to make with rubber bands. Tie-dye is a vibrant display of colors that can make you look like a unique piece of art in the 90s' fashion trends. In the '90s everyone had their way of playing the color game.
Tie-dye came in different varieties in the '90s. Tie-Dye is a major trend in 2019. These trends were seen across retailers in glamorous jackets, sweatshirts and unique prints.
Black and white
The "who wore it better" moment is ingrained in 90s' fashion history and exemplifies one of the more refined ways 90s' kids wore black and white together. In 2019 Black and white trends are introduced by fast-fashion retailers like Zara and Asos.
Crop Tops
Crop tops were an essential fashion item for women living in the 90s' and are once again in trend. The hippie movement of the 1970s highly popularized the cropped top. Ladies created the crop top look by tying their blouses in the front.
For best fashion from the decade pair a crop top with a pair of mom jeans. For a modern look, swap cropped camisoles for short t-shirts, sweaters and tank tops. This combination is a favorite of celebrities and street style star
Shoes & Accessories
The 90s' were all about cute accessories like fluffy, animal-shaped backpacks. Accessories during the 90s' in Europe and North America included loafers, suede sneakers, mules, clogs, knee-high boots, jelly shoes, go-go boots, black court shoes, chokers, hoop earring, silver jewelry, dainty earrings and necklaces, conch shell necklaces, berets, straw hats, floppy hats, gold jewelry, and hipster belts. Navel piercings had started to gain popularity. In the 90s' Platforms were popularised by the pop music scene. The 90s' made overalls a casual and comfortable wardrobe. These trends are back
Conclusion:
To wear the 90s' fashion trend today, recreate them in a modern and updated way. Instead of copying looks exactly as they were in the 90s', you need to rework styles so that they are relevant in today's culture. The trick is to capture that "too cool to care" attitude of the '90s' while looking fresh and on-trend. To do so, blend classic 90s' pieces like crop tops or chokers into your everyday wardrobe with skinny jeans and heeled boots. In 2020, various trends are truly back in fashion and can provide a range of outfits with a 90s' touch. Either way, have fun with your style and embrace the youthful feel of the 90s' fashion.